USS BENNINGTON

---
SPECIAL EVENTS
---
RETURN TO:


PHOENIX REUNION - 1999 - Bill Copeland
---


Arrived in Phoenix on Tuesday, and checked in at the hotel. What a place! The Embassy Suites, we each had our own apartment, it seems.

Each suite came with a bedroom, living room and kitchen, complete with a wet bar, microwave and refrigerator. As if that wasn't enough, the room included a made to order breakfast, by the pool, every morning, AND a complete Happy Hour, every day from 5:30 to 7:30 PM, complete with FREE drinks.

Good choice, George and Wilma!

After I checked in, I went to the lobby to see who was around, and I ran into Dan Vernon, who had just driven from Louisiana in his new pick up...... a true redneck!

After awhile, Rupert and some others finally arrived, they were held up at the airport, on their plane, while one of Arizona's famous dust storms passed through Phoenix.



On Wednesday, some of us went to the Arizona Diamondbacks Baseball game. (They lost, to Montreal, 8 - 1) What a ball park!! Brand new, opened in 1998, complete with a retractable roof and completely air conditioned! They had some interesting seating sections, for instance, they had a series of picnic tables in Left Field, where, for $40 you could bring your family of four, and a picnic basket and watch the game. In Center Field, they had a SWIMMING POOL! Where groups of 35 could rent the pool and swim, drink and eat. Oh, yeah, and watch the baseball game, too.

Bobby Quinn picked up the tickets when he was in Phoenix last February. Rich Snyder and Armond Dunn wanted to go with us, but we told them, no..... of course not, we already had our tickets, for 6 months, it's too late. They came along, anyway. (along with their wives) We had good seats on the 3rd base line.

Yeah, you guessed it, somehow, they ended up with seats right behind home plate! And they didn't let us hear the end of it.



On Thursday, we just hung around the hospitality suite, and checking out who was arriving. This year, we had Twenty-one (yes, 21!) new guys show up, who have never been to a reunion before.



On Friday, we took a day trip to Sedona, a nice bus trip, complete with tour guides, etc.. We stopped at the abandoned Indian (Native American?) cliff dwellings, and saw some spectacular desert scenery. We spent the afternoon in Sedona, where some of the group took a "Pink Jeep Tour" across the desert, climbing over rocks and anything else that got in their way. Everyone seemed to really enjoy that. (I stayed behind, eating Mexican food and drinking cold Coors beer)



On Saturday morning, Don Carmack, Biff Scarborough, Marty Roche, Clyde Adkins and myself decided to go out for breakfast. IN STYLE! At 4:30 AM we left the hotel and went to the outskirts of Phoenix, where we met our Hot Air Balloon Crew. We helped them unload the basket, set out the balloon, etc.. and then realized we were in the wrong location! As the sun started to rise, we realized there were 12 other balloons, we wandered around in the desert, until we found our Balloon Captain. Then we climbed aboard, and off we went, flying low and watching the coyotes and rabbits running between the cactus' and then flying high, looking DOWN on the other balloons. After awhile, we flew away, leaving behind the other balloons, and we landed on the other side of Superstition Mountain. We landed right next to a picnic table, complete with a linen table cloth, napkins, and champagne glasses.

Talk about something different! We sat down in the desert, watched the sun rise, and had a champagne toast, followed by breakfast, croissants, quiche, fresh fruit and plenty of champagne.

Check out the pictures:
CLICK THE PICTURE FOR A CLOSE UP
CLOSE THE CLOSE UP WINDOW TO RETURN HERE
MUSIC TO FLY BY
---

#1 Flight Quarters.... what a crew.....they needed a lot of hot air to get these guys off the ground, fortunately, they had plenty of it.


---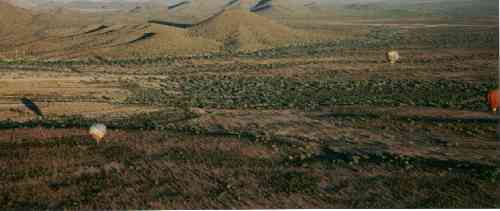 #2 "Off we go, into the wild blue yonder............ whoops, wrong song."


---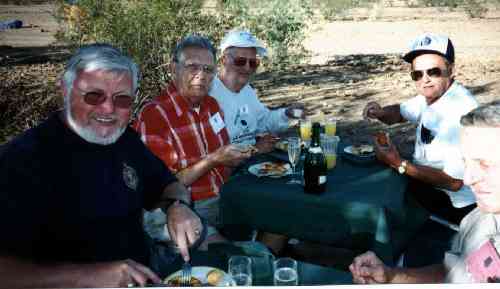 #3 Chow call...... what some old sailors won't do for a free mail.


---
Then, it was back to the hotel for the business meeting. Let's just say, next year (2000) we will have our reunion in Nashville, Tennessee, and in 2001, we will have our reunion in Albuquerque, New Mexico. Check out the reunion info web page for complete details.






RETURN TO:


---
Site Created By: